10 Simple Ways to Secure Your Home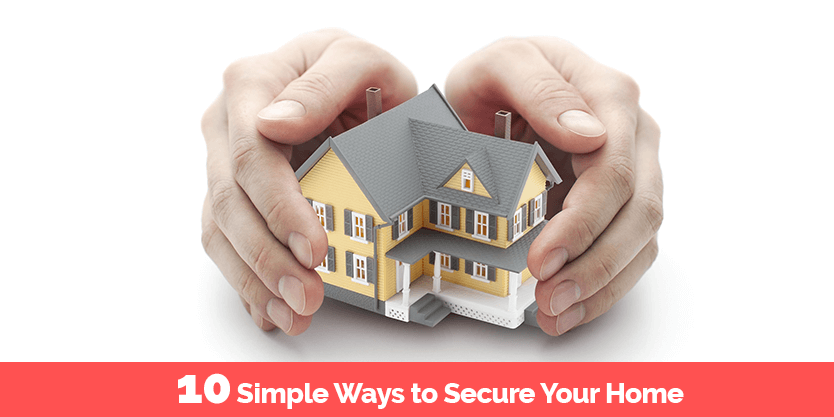 Nothing is as precious to a person as his home because that is where he feels comfortable, safe, and free. Unfortunately, intruders may break into your home to steal whatever treasures you have. If you have already purchased your home, then try to increase the security. You can increase your chances of stopping the intruders by simply following these tips.
Here are 10 simple ways to secure your home.
1. Get the Best Locks Money Can Buy
Studies show that 33% of burglars use the front door when breaking into a home. That means you should secure the front door first by buying a special lock for it. Then you should secure all the other doors in your home. Only buy locks from one dealer. Make sure the dealership is professional and that the locksmith handling your door has no criminal record.
2. Get an Enhanced Security System
You can start with a basic alarm system before graduating into a closed-circuit security camera system. You can also go for smart security systems like motion sensors on your doors and windows. Smoke detectors are also a good idea. These kind of security systems can certainly increase home value.
3. Get As Much Information As You Can
When in danger, the most important thing is to have an understanding of your surroundings. For example, you should know where the nearest police station, hospital, fire station, religious institution, or public facility is. Remember, if something goes wrong in your home, you will need help. Here are some tips for easy packing and moving out of your home. To get this help, you need to know the location and contact information of those who have a duty to help you.
4. Improve Your Lighting at Night
Intruders thrive on secrecy and stealth. To break into your home, they would have to take advantage of dark corners around your home. If you have no dark areas at night, then they would have nowhere to hide. They might just abandon their evil designs because people would see whatever they are doing. You can check out eight plus ways To brighten your home here
5. Join the Neighborhood Watch Program
Security is a common issue in any society. That means your neighbors want as much security for their homes as you want for yours. You can come up with various measures on how to protect your homes if you work together. For example, you can form emergency response teams. You can also work on street lighting in addition to sharing information.
6. Get a Dog
Dogs are neutral companions who are always skeptical of strangers. They can fight off intruders by biting them or chasing them away. They can also scare away intruders by barking endlessly. This barking will also alert you and your neighbors allowing you to do something before the situation worsens.
7. Create a Viable Plan
Sometimes, the best way of protecting yourself is by knowing what to do when troubles comes your way. For example, you should have a proper understanding of the layout of your home. Where is the safest plan for you and your loved ones? What can you use to defend yourself? Whom can you call for help? Answer all of these questions today so that an intrusion does not leave you confused in future.
8. Build a Safe Room
Safe rooms are areas in your home that can offer you additional protection against attacks from intruders. For instance, these rooms come with thick walls, emergency food supplies, and communication gadgets. They will keep you and your loved ones safe until help arrives.
9. A Hidden Safe Is a Good Idea
Criminals are not always strangers to you and your home. In fact, a majority of them are people who know you. For example, they might have fixed something for you inside your home. When doing so, they might have noticed something valuable. They might come back for these valuables forcibly in future. If you have a hidden safe, no one would ever know that you have highly valuable items. Even if they do, they would not have an idea where to find them.
10. Create Illusions of Occupancy
People will rarely break into a home unless they know that no one is around. If you create an illusion of occupancy, then potential intruders will look for another home to burglarize. A good way of doing that is by leaving one car in your driveway as you head out of town. You can also leave the TV on when you go to the convenience store. These simple tricks will create a secure home for you and your family.
Are you planning to buy Villas in Calicut ? Then, you are at the right place. Q Developers is one of the reputed builders in Calicut. We will provide you with your dream home. For booking and other details, contact us today.