Tips to Find the Best Location in Kozhikode to Buy Luxury Villas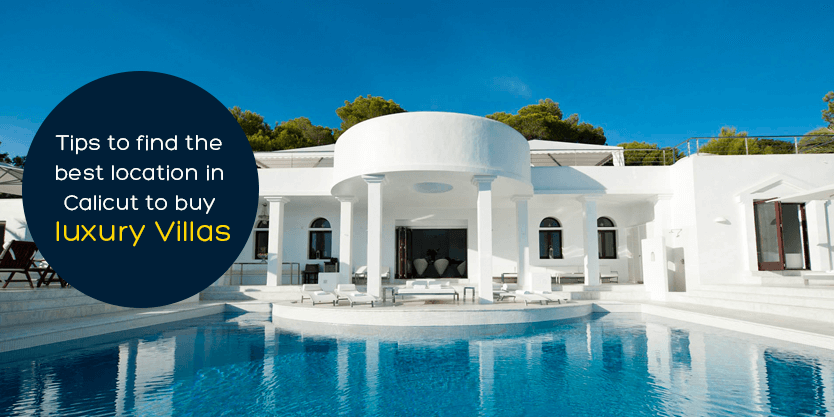 Real Estate in Calicut, Kerala has been on an upsurge like never before. The number of people including NRI's choosing Kerala for real estate investment is on an increase due to the living conditions and the serene ambiance that you cannot find anywhere else. 
Cochin, Trivandrum, and Thrissur are among those cities of Kerala that have been experiencing an increase in the saga of luxury villas. of late Calicut has been on the list for the awesome living spaces that it has been offering.
All kinds of flats, apartments, and luxury villas are available for sale in Calicut. These modernized living spaces bloom with sophistication and is one of the reasons why people choose Calicut. 
So, if you are searching for new luxury villa projects in Kozhikode then here are a few tips to help you choose the best one.
1. Location 
One of the most important factors to consider when you choose a luxury villa in kozhikode. Think of all the possibilities before selecting a particular location.
Is the location closer to the health centers like MIMS Hospital, Calicut Medical College, educational institutions such as NIT, IIM Kozhikode, commercial organizations? Also, check the transport facilities too. And, the neighbourhood matters.
You do not want to run into a bunch of hooligans at your home when you are back home after a tire some day from work.
Also, check whether there is any shopping centers or commercial business setups ready to boom shortly. It can affect the resale value of your home.
These are some of the aspects that you need to consider when choosing a location.
2. What are your needs?
Your needs are what matters. Why do you want to buy this luxury villas in Calicut , Kozhikode?
Are you going to stay in Calicut for a long time or whether you are going to need your villa for a short term? Some people buy houses as part of their investment whereas others buy it to enjoy living in their dream homes.
If you are planning to live in a home for a long time then, you need the best, and if your plans are short term then, renting a home could be a better option.
So, consider your needs and the time-period during which you need the living space and then choose your home. The next thing to consider is your family. Are you moving in with your parents or with your spouse and kids? You can check out 8 top tips for easy packing and moving out of your home here.
Another factor that matters when choosing a home. Check for the number of rooms in your home. Whether it could accommodate all your family members?
3. Facilities and Amenities
When you have finally chosen your dream luxury villa in Calicut, the next thing you need to do is to examine the facilities and amenities that the particular luxury villas in calicut for sale is offering you.
You are not looking for just any living space but a real home, so why not choose the one that is overflowing with all the necessary amenities and facilities.
Examine for any wear and tear on the walls, flooring, and tiles. Check if there are leaks or any problems in the bathroom pipes and fittings.
Inspect the Kitchen cabinets, sink, etc. for any possible flaws.
If there are any minor flaws, you can easily fix these and bargain with the seller over the price and save some money.
If it is a brand new luxury villa that you are purchasing from a reputed builders in kozhikode, you can ask them to fix it for you as you do not want to waste your time and resources searching for plumbers and other technicians.
4. Security
Again another important factor that you need to consider when you are choosing a home. How secure is your new home? 
You do not want to be robbed of your possessions by living in a home that is insecure. Check whether your realtor is ready to provide a strong and tight security for your home, here is some tips to secure your new home.
Unless they cannot assure you of the security, it is better to drop the plan to buy the particular home that you wish to buy. You can check out 10 simple eways to secure your home here.
5. Ventilation
A home is incomplete until it has a proper ventilation system. You cannot live in a house that has no proper airflow, lights, and ventilation.
Don't fix a home from its outer appearance. It might look too inviting from the outside but don't make a final decision without visiting inside.
You do not want to end up in a house with dingy rooms and deprive yourself of fresh air.
Well-lit and proper flow of air are the need of any home and if you cannot find it in your home, then drop your plan. Do not buy the home. It's not for you. 
These are some of the simple factors that you need to consider when buying luxury villas in kerala. 
Are you searching for luxury villas in kozhikode for sale?
Then, your search ends here.
Q Developers is one of the leading Luxury villas in Calicut, Kerala and we have been providing excellent living spaces to our customers. We have a wide range of villa projects in Calicut taking shape. If you are looking for villas for sale in Calicut, Kozhikode, then Q Developers is here to provide you with some of the high-class living spaces. For more details, contact us today.