Checklist to Buy Luxury Villas in Calicut City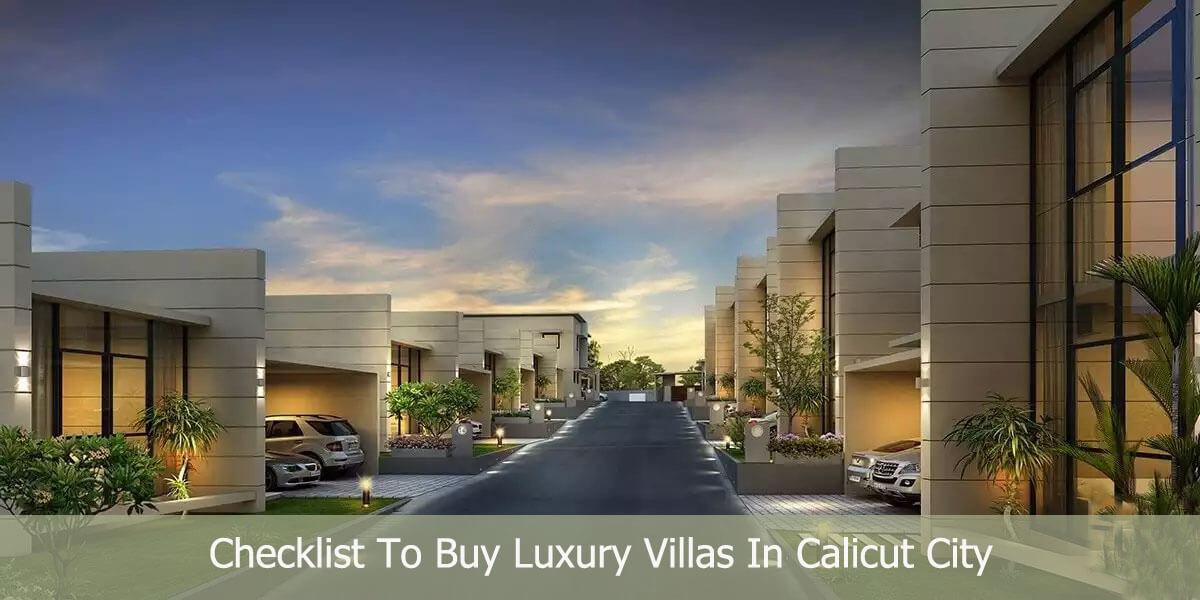 How do you search for luxury villas in a place like Calicut? Or if you find one how do you recognize whether this is a luxury one or an ordinary house?
Just because a villa is too expensive does not mean that you have found a luxurious one. Sometimes an ordinary home could be too expensive owing to several factors that do not associate with its interiors or architecture or facilities.
In fact, there is no particular style, size or design that could define luxury of a home. A penthouse near the seaside or a condo in the heart of the city or an insanely huge mansion or maybe a contemporary home nestled somewhere in the mountains could all define luxury at its best. You can check out 17 cool valentine's day house decoration ideas here.
It 's hard to explain what a luxury villa is, but we could help you with tips to buy luxury villas for sale in kozhikode :
1. Seek help from an expert realtor
The first and foremost thing that buyers need to realize is that realtors are here to help and not to harm. 
Buyers often hesitate to hire a real estate agent because they think of them as money mongers and of no use.
Not all realtors are fraudsters. They are here to help; the only thing is that you need to examine and analyze their expertise in the field before hiring them.
Buying a luxury villa in Calicut is not an easy task. There is a lot of money involved in the process; a realtor will have your best interests at heart, and so they will ensure that you get the best value for your investment.
They will do everything in their power to buy you the best luxury villas in Kozhikode including negotiating for you on your behalf.
You can check the internet and browse through the different websites such as indiaproperty, commonfloor, 99acres  that showcase the Premium villas in Calicut for Sale from Reputed Builder Kozhikode like Qdevelopers.
Though the internet might provide you with a huge list, it is not necessary that any of those houses listed out there would interest you.
And, also, it is not necessary that these homes impress you. 
When you have a realtor by your side, they have a splendid list of all the best homes in a particular locality. here is our another blog on tips to find the best location in kozhikode to buy luxury villas
They also maintain a list of the ongoing projects, completed projects and yet to be launched projects that come under your search criteria. Click more details on villa projects in Calicut(Kozhikode)
Sometimes sellers do not advertise their homes over the web fearing privacy, but they seek help from realtors to get their home sold.
So, you do not miss out any of these homes.
Also, some homeowners approach the realtors to get help at fixing their home to increase the property value of their house.
Again, you are at an advantage if you seek help from realtors because they have a varied list of all these houses.
2. Keep the money ready
We are discussing the tips to find the best location to buy luxury villas, one thing you need to bear in your mind is that the homeowners do not entertain any foul play.
They are interested in showing the homes only to qualified buyers. If you do not have the finances to invest in a luxury villa, abort the thought.
Buyers usually have a wrong idea that they can roam around searching for homes and apply for a loan after they finally like one.
Even though you might have a down payment ready for the immediate needs, the sellers are particular of extracting the whole cash once the deal is fixed.
We cannot blame the sellers for being adamant because the property is too valuable and no one wants to incur losses due to carelessness.
Recommended that you request your mortgage broker, personal banker or loan officer approve your loan beforehand in the process. 
3. Seek assistance for home inspection
Luxury villas are different from ordinary homes, one of the reasons why they are defined so. You need to seek assistance from a qualified home inspector or expert to help you realize whether the villa you found is the best one or not.
Here is a brief overview of the amenities common to luxury villas:
Automated Lawn irrigation systems
Pools
Fountains and ponds
Exterior Fireplaces
Central vacuum systems
Sophisticated security/surveillance systems
Automatic screen and awning systems
Heated floors/driveways
Multiple Parking areas and more.
These are just the basic amenities, though you will have to seek assistance from a home inspector who knows the best. A real estate agent can help you to find your dream home. Have a look at the 5 questions your real estate agent needs to answer.
What kind of a home are you searching?
Regardless of whether you are searching for luxury  flats, apartments or villas in Calicut, Kerala, Q Developers has a wide array of living spaces to meet your requirements. We design some of the best living spaces modeled according to the latest architecture and engineering design concepts.
Contact us today and book your dream homes in Calicut!